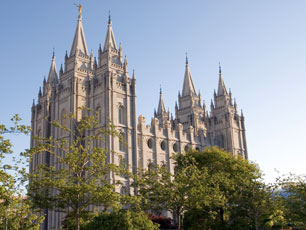 The Friday Gospels is a work of fiction – based on both detailed research and personal experience. Nevertheless, the characters do not exist. For those who'd like to find out more about Mormons who do exist, here are some links:
Mormon.org is the official site of the LDS church.
Post-Mormon.org is a community for people needing support as they leave, or consider leaving, the LDS church.
Mormon Stories is a site where Mormons, questioning Mormons and ex-Mormons can share their opinions and experiences.
Feminist Mormon Housewives (does what it says on the tin).
Mormon Think is a site produced by active members of the church and takes an evidence-based look at polygamy, translation, racism etc.
F.A.I.R (The Foundation for Apologetic Information and Research) is a site that tackles the same issues, from a faith-based perspective.