Jenn Ashworth was born in 1982 in Preston, Lancashire. She studied English at Newnham College, Cambridge and Creative Writing at the Centre for New Writing at the University of Manchester.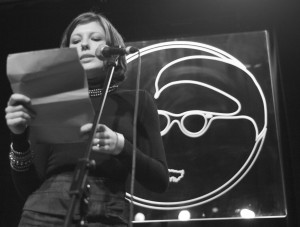 In 2009 her first novel, A Kind of Intimacy was published. It won a 2010 Betty Trask Award. On the publication of her second novel, Cold Light, in 2011, she was featured on the BBC's
Culture Show as one of the UK's 12 best new novelists. The Friday Gospels was published to resounding critical acclaim in 2013, and her fourth novel, Fell, was published by Sceptre in 2016. Her novels have been translated into French, Italian, German and Turkish and they are published in the US.
In 2013 Jenn co-founded Curious Tales – a publishing collective, with Emma Jane Unsworth and Richard Hirst. Curious Tales published three illustrated anthologies and an enormous interactive novel in the shape of Preston Bus Station. She went on to collaborate again with Richard V. Hirst in the writing of The Night Visitors, a horror novella published by Dead Ink Books.
Jenn's short stories have appeared in the The Big Issue, The Lonely Crowd, MIR, The Manchester Review and Short Fiction Journal. They've been collected in 'best of' anthologies and broadcast on BBC3 and 4. She reviews fiction for The Guardian, and in 2016 judged the Gordon Burn Prize.
Jenn lectures in Creative Writing at Lancaster University and is a core member of the Writing Squad team. She also tutors regularly for Arvon.
Acknowledgements:
The picture on this page was taken at the Manchester Blog Awards 2010 by Tim Power, Gonzopix. It may be used for on-line publicity purposes but please ensure Tim is credited as the photographer in every instance.
Press:
High resolution photographs are available for print publicity on request.
For interview and event requests, please contact Karen Geary at Hodder: karen.geary@hodder.co.uk.
For rights and translation enquiries, please contact Anthony Goff at David Higham Associates.
For film, television and radio adaptation requests, please contact Nicky Lund at David Higham Associates
Biographical details and sample pictures for press and publicity purposes are available here.

For information about Curious Tales (publications and performances) go to the Curious Tales website.
For an academic profile of research interests, teaching etc and a full publications list, please go here.