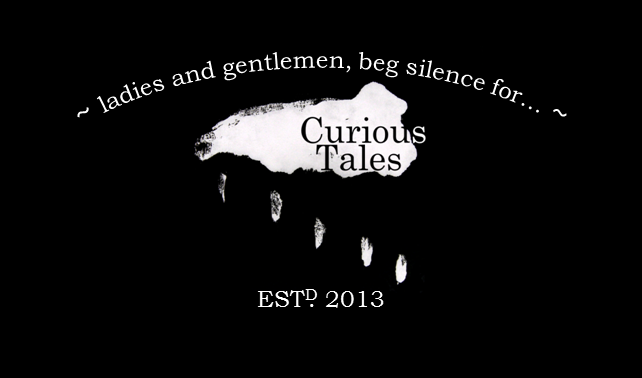 So, tonight is the last Curious Tales gig of the season. If you're willing to forgo seeing the Broadchurch finale as it airs, you could come to Verbose in Fallowfield, hosted by Sarah-Clare Conlon of Les Malheureux fame (more about them here) and listen to myself, Emma-Jane Unsworth and Richard Hirst read.
We have a handful of copies of our latest anthology left – Poor Souls' Light – which we're hoping to get rid of on the night. Emma will  be revisiting her amazing story about jealousy and possession from our first volume, The Longest Night, and – most excitingly of all – Richard Hirst will be reading from Bus Station: Unbound, which is our latest collaborative, interactive, experimental project.
It's been such an amazing experience setting up, working with and helping to shape this writing, art and publishing collective. Curious Tales has been a labour of love, an experiment and an opportunity to work closely with some amazing writers, a fantastic artist, some creative and ambitious venue hosts and partners, and meet readers in a way that we never have before.
I've been visiting universities this year, talking about what Curious Tales is and how we work together. I talk about what's important to us – autonomy, collaboration, trust, risk, experiment, independence and playfulness. I talk about how the idea of exchange and conversation shapes everything we do – our books are in dialogue with writers with we admire, with artwork, with strange and controversial buildings, with each other and with our readers.
We're all interested in blurring and exploring the historical boundaries between the types of creative work involved in the 'literature' industry. Who says writers can't be publishers? Who says readers can't have a stake in the writing and help to shape the work? What happens if we get readers and writers together in different ways? We like making problems for ourselves too. How can we create a beautifully illustrated and designed anthology that's affordable enough for us to produce and our readers to purchase? How can we balance immersion and interactivity in an branching narrative when the two seem to contradict each other? How can we develop projects that aren't immediately lucrative while covering our costs and our time?
Tonight (probably while you're reading this, if I can get the scheduling right) we'll be launching Bus Station: Unbound. An interactive novel in the shape of a bus station, a love letter to a modernist 'monstrosity', an experiment in genre (part horror, part love story, part coming-of age, part fable, part something entirely itself) and a spontaneous collaboration between myself and long-time friend and co-writer, Richard Hirst. I'll write about what it feels like to co-write a novel sometime soon, I think.
This book took us a year to write, and a good few months working to find a way to publish it. We first thought we'd compile it into a Kindle book and sell it via Amazon. Jon from Inkle – which is the studio that's been supporting us and helping us design the book has been  assisting us every step of the way. In the end though, we decided Kindle publishing wasn't quite right for us. The book was too big, too complicated, too branching and involved too much random text to shrink down into the kind of file Amazon needed from us. It would have to become much simpler, much less ambitious, much less like a maze of a building to get lost in.
Selling via Amazon itself also felt increasingly problematic and out of step with what we do at Curious Tales more generally. Our anthologies don't have ISBN numbers. We hand sell them at performance events, and post them out to readers all over the world, licking each and every envelope ourselves. We cart the books about in a battered old suitcase. We love how close to our readers we are. How handmade it all feels. We wondered  – could we keep some of that 'feel' in the way we distributed our first e-book only project?
We thought we could. If we were brave enough. So we decided to do something a little different. If you'd like to read / play / explore / experiment with a novel set inside Preston bus station, a fantasy, a fiction and a nightmare – then you can. In your browser, via the link here.
This strange book lets you make choices, lets you navigate a real and imagined space, and lets you control what kind of novel you want it to be. The book also lets you decide how much it is worth. You can read, as many times as you like, and donate, via a Paypal button.
We know when artists and musicians and writers make their work available on this kind of model, it is usually financial suicide. But Curious Tales is a place for risk, for experiment, and for, in all kinds of ways, meeting our readers in fresh and unmediated ways. Enjoy. Thanks for being interested in what we do. Send us some cash if you have it – we put it all towards our costs and future projects and everything is spilt between the entire collective.
P.S The next Curious Tales project is called The Barrow Rapture. If you'd like to be put on a mailing list to hear more about it, click here and scroll down a bit. Our newsletters are infrequent and we never ever send spam.