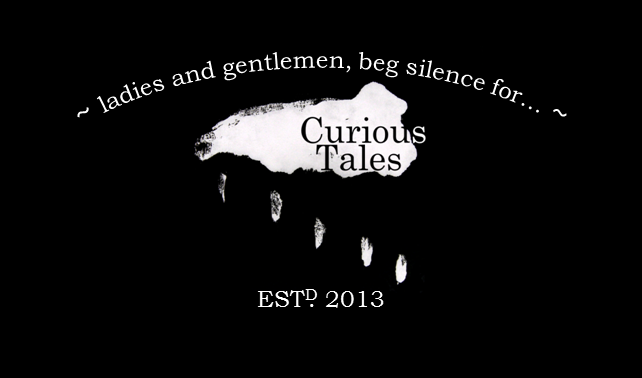 I know August, for most of you, is a time of sand-castles and ice creams. Maybe even a bit of sunbathing. Not so for me and the rest of the Curious Tales team. We spent all of August (and quite a lot of June and July, to be truthful…) writing ghost stories, reading everything by Robert Aickman we could get our hands on, booking another tour and announcing the next Curious Tales anthology – Poor Souls' Light.
At Curious Tales (here's the core team and a few people who've been kind enough to work with us) we work together as a team on every single aspect of writing, editing, designing and distributing the book. We're calling ourselves a 'collective' to emphasise that we lead and develop all our own projects and the collaborative, creative elements – not only of the writing, but of the way we market, promote and perform are work have been decided on by us, together. I'm really proud of us – last year, with our first volume, we navigated a very steep learning curve, wrote some amazing stories together, and remained mates during what was, at some points, an incredibly stressful and demanding process (thirteen reading and performance events in three weeks, anyone?) We put our own money into The Longest Night: Five Curious Tales – and the massive response from readers last year  not only meant we weren't left out of pocket (hooray!) but were able to fund this year's anthology. So thanks, guys.
Poor Souls' Light: Seven Curious Tales featured two wonderful guest contributors – M John Harrison and Johnny Mains (who were paid a fair fee for their work) and the beautifully eerie art work and cover design you've come to expect from our resident artistic collaborator, Beth Ward. Now, at the end of December, we can look at our spreadsheet and confidently say the experiment was again, a success – we sold enough of the books to break even within ten days, there aren't that many left now, and almost all of the events were sell-out or near-sell out performances. Our highlights were probably performing in the round in the Harris Museum, in the beautiful gothic atrium of Birmingham Art School, or in a promenade performance where we were hosted by the wonderful Litfest and Lancaster Castle. Creepy!
You'd think this would be enough. But we are gluttons for punishment. Gluttons! Curious Tales will also be releasing two other projects this winter. The Barrow Rapture is a web-only project funded by Lancaster University. I'm co-writing it with Brian Baker and Tom Fletcher, Beth is collaborating with us on art and design, and 3ManFactory of Preston (who designed my wonderful website and keep it maintained) are working with us to create something we're calling 'an exploded graphic novel.'
Finally – and for me, one of the most exciting and demanding projects I've worked on for a while – Bus Station: Unbound, a novel-length interactive fiction I have co-written and built with Richard Hirst. If you like concrete, brutalist buildings, creepy un-rooms where no rooms should be, choose-your-own adventure style functionality, a snow-storm that just won't give up, and ruminations on boredom, ambition, family, sacrifice and selling out, you will love Bus Station. If it all goes according to plan (and it looks like it is going to!) it will be available as a digital only e-book from the end of this month.
The coverage we've been getting is amazing. We know that what we do is fairly unique – the collaborative, collective aspect, the close working with an artist who helps to shape and edit the stories. The winter performance tour. The fact that yes – we're mainstream writers who make a living from Waterstones and Amazon and the Big Six publishers but we choose to go it alone for this project anyway. The fact that the anthology will never make us rich, never be an e-book, and never be reprinted. They are all odd, unique things that have snagged the attention of many of the critics and journalists and bloggers that have written about us. It's gratifying and heartwarming and lovely and all kinds of other things to realise what was just another crazy idea in the heads of me and my friend Richard Hirst a couple of years ago, has turned into something that's making a splash in the national press. Here's a write-up we got in The Telegraph last week:
There are no duds in this steely little collection, which – independently written, illustrated, printed and marketed – is also blazing its own brave path through the weird landscape of contemporary publishing.
And what next? A month off to enjoy my christmas chocolate, meet my new students, finish some edits on my (other) novel and work on a story that has been bugging me for about fifteen months (no joke). Then, between promoting Bus Station: Unbound and digging up my next novel, the Curious Tales team will start to dream and wonder about what next year's anthology might look like… like I say, Christmas comes very early to Preston.