Here's something special – the opportunity to work closely with three fabulously talented new writers over the course of a year, kicked off with a glorious week at the newly refurbished Hurst. We wrote, played, talked a bit about Games Workshop and childbirth, cooked (not me, but I did eat) admired the scenery, listened to readings, laughed, wrote some more and stayed up far too late and put the world to rights.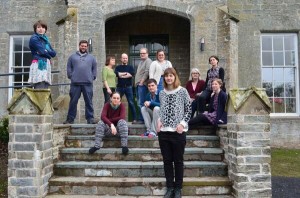 I spent the week with the wonderful poet Clare Pollard (I first saw her read about 15 years ago – what a small world it is for a Boltonian poet and a Prestonian novelist) and amazingly talented and generous dramatist David Eldridge and their poetry and drama mentees.
The Hurst was beautiful – certainly the fanciest Arvon house I've ever been in. The workshop table – handmade from local wood – has to be seen to be believed. I slept in John Osbourne's study, tried to write at his desk, and read The Entertainer in his front room. There's nothing like a week in a country house to get to know a set of writers well. I always come away from Arvons feeling like I've made a new set of friends.
Here's a picture of us all on the front steps of The Hurst practicing our miserable writer faces. The Jerwood / Arvon mentoring scheme runs annually and is open to anyone who has taken an Arvon course in the previous year. To find out more click here.