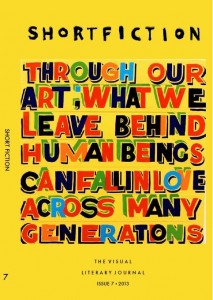 Just a tiny note to say I have a new story published this month in Short Fiction 7. It is called Katy, My Sister and is a kind of companion piece to Every Member A Missionary, which I published in MIR9 last year. The story appears with others from Michelle Greene, Lee Upton and Richard House and has been beautifully illustrated by Sam Rowe (click to see the picture). If you'd like to buy a copy of the journal, or submit to it yourself, click here.
Here's the opening, to whet your appetite / let you know what you're getting yourself in for:
"We didn't have much stuff when we moved into the new place. Not carpets or a dining table, or even curtains or beds at first. My dad must have thought if we weren't allowed our things we'd come back. But we didn't, and when the council gave us our new house the members in the Ward gathered round and donated things to us and because we didn't have a car any more, they made a rota for who would give us lifts to church and to the supermarket too.
'If there's one thing we know how to do, its service,' Mum said, as we accepted the boxes of other people's chipped dishes and dented baking pans. We were all called to serve, each according to his talents. Mum had given so much to the Ward that there was no shame at all in accepting help this time. This is how we met Brother Johnson, who'd only recently moved into the area himself. After a couple of weeks of doing his share on the service rota, he took Mum to one side and told her he'd had a personal revelation about marrying her. He still had a wife, Mum explained, but she was very ill and going to die soon so would we like to meet her, and the boy and girl who would be our new brother and sister? Me and Anthony said yes, and we were invited round to theirs for tea."