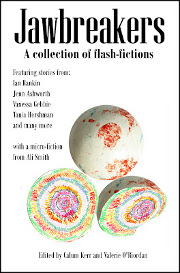 I'm delighted to say that a flash-fiction of mine – Hammer – will be appearing in the new anthology Jawbreakers, edited by Calum Kerr and Valerie O'Riordan and out on May 16th – Flash-Fiction Day.
Suspicious or curmudgeonly about tiny stories? Be convinced.
You can order your copy in advance here. And why wouldn't you? Apart from my story, there are delights from Ian Rankin, Vanessa Gebbie, Tania Hershman, a micro fiction from Ali Smith (oh yes),  and many more. Too many for me to list. Just buy the book. Hooray.
National Flash-Fiction Day is the result of a lot of love and hard work from Calum Kerr and as well as the anthology publication, the day will be marked by a series of events, competitions, meet-ups and publication oportunities all over the country. (I am pleased to say that the North-West is particularly well represented. We loves our flash up here, we do).