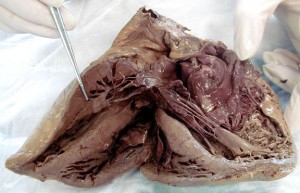 So. The Launch has come and gone.
Because Waterstone's wanted Cold Light to be in their May promotion, the publication date was pushed forward a little from mid May to the end of April. Sceptre were fearsomely and efficiently ready, but I wasn't, and refused (other than to get rid of a couple of bottles of fizz on the 28th) to feel like the novel was really 'out' until the original publication date.
Last Friday, Tom Fletcher launched his new and brilliant novel The Thing on the Shore and I tagged along with the launch for Cold Light. It was everything a launch party should be and our friends from the Northern Lines Fiction Workshop – the moral-supporters, pointing-out-when-you're-being-lazy, noticing-crap-grammar-and-lazy-characterisation, buying-you-a-pint-when-you're-feeling-crap amazing set of friends that they are, read with us. And we got quite a bit drunk.
It was a celebration, after all.
I have been so nervous about publicity. Since January I have been shrinking (literally) and wanting to find a very small place to hide inside. A mouldy stone to slither beneath.
Which is actually a fairly good state of mind to be in when it comes to writing another novel.
I don't know why, it just is.
Anyway.
The launch night was stuffed full (a hundred people or more, apparently, and people sitting in the fridge…) of friends, not journalists or book buyers or customers. Just friends there for Tom and me. I know that launch parties are only for the author's ego, and do nothing for sales or reviews or anything else. But my ego has been through the wringer, and it needed it.
If you were there and you haven't had a message from me yet – thank you. My giant, pathetic, enormous and disgusting ego thanks you.
My ego is a giant, sweaty, moist thing. Its sort of pink and glandular looking – like the inside parts from CSI-New York.
Don't worry, haters. Tomorrow it will be shrinking back to its papery, crinkly, skeletal nettle-leaf self.
And since then there has been the first nice print review and interview / feature in The Times (behind a pay-wall so I don't think it would be nice to quote from it here) and a kind blog review and interview from The Book Bag and something amazing about the cover and an interview at 3am and so many emails and messages.
I have been overwhelmed with terror for three months and now I am overwhelmed with whatever the opposite of that is.
I think what I am trying to say is that writing can be fairly hard work and lonely. And of course I know I am lucky to be doing it. But it takes a long time, and the chance for celebration comes along only once every two years or so – if you are slow, like me.
And I have learned this week that it is good to celebrate and feel very loved and happy that you managed to do something that didn't seem possible. Because there will always be work and doubt and trembling and it's nice to have a day (well, an evening) where things like that don't matter.
Thank you, friends.