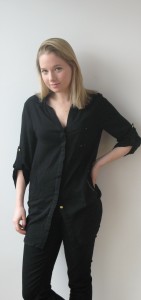 "Art is knowing what to leave out." –Frank Wedekind
 Lately, I've found myself gravitating towards classic short novels and novellas – works such as Marguerite Duras' The Lover and William Maxwell's They Came Like Swallows – in which, to paraphrase Chekhov, nothing and everything happens. In several important respects, they are different from short stories: broader in scope and emotional range and often encompassing a wider array of characters. Technically, I think they must be every bit as sophisticated, and of course they also have the advantage of being readable in a single sitting.
 As a writer, what strikes me most about these books is the fact that there's nowhere for their authors to hide: no meandering digressions, no indulgent scene-setting, no distracting parallel narratives, no philosophical posturing – and above all, no attempts to explain. The story (or should that be the plot?) is usually quite basic, but at the same time entirely complete in itself. There is something organic about these works that makes them highly enjoyable to read, rewarding to study and, no doubt, far from easy to write.
 The novel that I'm working on at the moment will be shorter than my first: 80,000 words is the target dictated by the powers who will consider it as part of my submission towards a PhD in Creative Writing – although at the moment I'm wishing that I had even a fraction of the necessary skill to say what I mean to say in half of that. It is, in part, a gothic tale, and one of the things I've noticed trawling through modern works in this genre is the value placed on brevity.
Guy Burt's After The Hole, Julia Leigh's Disquiet, Frank Wedekind's Mine-Haha, Ian McEwan's The Cement Garden, Shirley Jackson's We Have Always Lived in the Castle and Georges Rodenbach's Bruges-la-Morte all succeed at least in part because of the suspense built steadily and steeply, but always with a certain reserve, toward an often shocking climax. I'm certain that these novels wouldn't work nearly as well if their authors had tried to spin out the tension over 300 pages or more.
 Of course, writing spooky is more about page count: as I've begun to learn, it's also about knowing what to leave out in a given paragraph, or even within a single sentence. I've been pleasantly surprised to discover how easy it is to transform a scene from suspenseful to downright creepy by cutting anything that attempts to shed light on actions or things described (dialogue, usually; though also sometimes direct narration). A twist of hair found shoved to the back of a drawer, or a little girl poking at something in the river with a long, bent stick; whatever the image, its power will only be diminished by attempts at explanation.
It's an obvious rule, perhaps, but one that's easy to forget amid the flurry of first-draft wordification. It is the silence at the end of Kressmann Taylor's epistolary story Address Unknown that packs such terrifying effect into a mere 60 pages. I'd love to know if Taylor was ever tempted to spin this into a longer work (did anyone ever approach her to buy the film rights?) – if so, I'm extremely glad that she didn't.
 In journalism, we're often reminded of the importance of white space on the page – similar, I suppose, to what musicians mean when they talk about learning to listen to the notes that aren't played – and more and more I'm coming to realise that the same holds true for fiction. The humble 'delete' key has never looked more appealing…
Trilby Kent's novel, Smoke Portrait, will be published in the U.K. in March.
This post is part of the Guest Tips Series, a collection of pieces of advice and personal experiences from writers who are not me. Bits of advice or ranting from writers who are me can be found here, in the Tips for Writers bit of the blog. If you fancy writing for me, you can find out a bit more about the hows and whys and wherefores here.