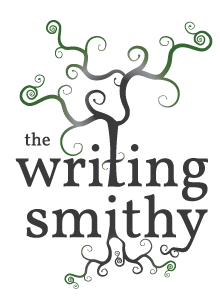 Out to tea with a friend this week, and he said to me, 'so, do you plan on having a holiday any time soon?' and I shrugged sheepishly – which is my way of telling you that I've gone and started something else with a friend of mine, and this is a plug-post.
the Writing Smithy is me and Sarah Hymas, mentoring and editing and doing appraisals. She does poems, I do novels – and if you're a short storyist or a flasher or a script-writer still get in touch because we can refer you on to people we know and like, are qualified to do what they do and will not fleece or flatter you.
We 'soft-launched' the website a couple of weeks ago – and already the recommendations and referrals are trickling in. I'm so excited about this. Since I stopped working in the library I've been trying out loads and loads of different kinds of work and finding a lot of tasks, environments (and yes, people) that I didn't want to continue with. But since Sarah and I decided to do this, it has been Spot On.
The thing I like best about being in charge of my own working life is that I can make sure everything I do is honest and high-quality, is more about the writing than the selling of the writing*, involves working with people I find interesting and doing something that I like. And what I like, I've discovered, is working with other people who are interested in making their writing better, open to experimenting, reading and writing new things, talking and listening, practising and working hard.
Everything else about us and what we do and why we do it, how much it costs and how you can get in touch with us is on our website. We're based in the North West, but we will work via email, phone or Skype if it is impossible for you to travel to us.
*there's nothing wrong with selling writing. I like selling writing. But I am a writer and a teacher, not an agent or a publisher or a sales and marketing specialist. So I stick to the writing part. It's only fair.