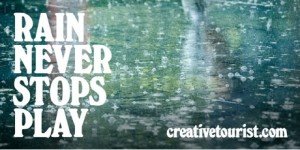 Recently I took part in the judging panel of the Rainy City Stories / Creative Tourist short story competition, Rain Never Stops Play.
Lydia Unsworth is a worthy winner with her short story The City is Leaving Me If you like that, there's plenty more where that came from – on her blog Getting Over the Moon.
I want to think more about the experience of judging things before I write about it here. The last time I was a judge was at last year's Manchester Blog Awards – an event close to my heart because the earlier incarnation of Every Day I Lie a Little won the Best Writing on a Blog Category back in 2008. Last year Emily at My Shitty Twenties took the ceremony by storm and won two categories.
I wonder who it will be this year? I know there are a lot of Preston based bloggers who read these posts – so as a reminder, seeing as we're in commuting distance of Manchester, we're eligible to nominate ourselves too… there were two Preston nominees last year – Just Testing and I Thought I Told You To Wait in the Car and it would be great to see some more Preston bloggers get a bit of extra publicity for their writing this year.*
What can I say? I am a mad Preston Patriot. Get in.
*this isn't a thinly veiled plea for you to nominate me. I'm fairly sure ex-winners aren't eligible any more.