This is the place I will be blogging from, from now on. If you've come from here, update your feed-readers and blogrolls now.
Isn't it pretty? I'll leave you to root about on your own – but contact me if you notice any glitches, admire the pictures – which are all places in A Kind of Intimacy and Cold Light, and harass @tomstables if you want one too.
It's been a little while since I've last blogged. Thanks for all your kind messages. I'm much better now, and have lots of nice news.
First, some links to things that happened while I was away. Despite me languishing in bed for too much of it, the rest of the world carried on existing and doing and carrying on as usual (how dare you!). Nik launched Not So Perfect, Sarah launched Host and Word Soup had their first birthday party…
There was a really nice review of A Kind of Intimacy over at Mostly Fiction, followed by an interview with me and another comment on the book at His Futile Preoccupations. A Kind of Intimacy has been out in the UK well over a year now and the flow of reviews and blogs about it have dried up, so it's odd and lovely to have it talked about again on the other side of the water.
Back in the UK, apparently I've been entered in some kind of Word Cup competition for writers hosted by blogger Ben Judge. I have no idea how it works, but apparently A Kind of Intimacy beat the collected works of Murakami 5-0 (that can't be right, surely?) and is through to round two where I'm (she's?) playing against Steve Aylett. As happens so often in my life, I am confused, but curious.
Most excitingly, A Kind of Intimacy was awarded a Betty Trask Award at the Society of Authors annual shindig. The prize giving was at The Cavalry and Guards Club in Picadilly, very possibly the poshest place that I'd ever get the chance to go inside – except I had to stay at home and languish a bit more.
While (in my mind) the rest of the literati were living it up with full glasses and posh frocks, I was in bed, watching episodes of Cracker on You Tube and shoving sherbert lemons / gaviscon down my neck while muttering murderously. The Betty Trask Award is given each year for the best first novel written by an author under the age of 35. I never thought anything like this would happen for the Annie-book, so it's very exciting that it did. Even if I didn't get to wear my new dress.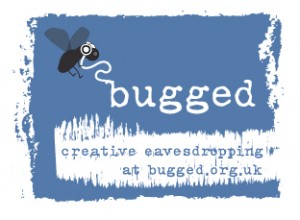 Finally, there's only a week to go now before Bugged launches the world's first official eavesdropping day… poets, short story and flash fiction writers as well as script writers are invited to submit work based on an overhearing from the 1st July.
Today, while scoffing chocolate cake in a very posh cafe in Clitheroe, I overheard two waitresses talking… 'I don't know why she's even got the job. I had to read The Aeneid!' If anyone feels like stealing it for a story, be my guest…